Stainless Steel Sampling spears (SS)
Stainless steel probe sampling spears (SS)
Нержавейка SS
The Stainless steel multilevel samplers (code SS) are used for taking a representative sample of grain, seeds, granular products and powders from the entire depth of the mass.
Commonly used for sampling at ground storage warehouses, grain trucks, railway cargo, big bags, and grain storage sleeves.
Stainless Steel Samplers are made of high-quality chemically resistant material: AISI 304/304L stainless steel.
In comparison with Aluminum samplers, stainless steel material is heavier. But Stainless steel samplers are lighter than sampling probes made of Brass.
The device itself consists of 2 empty stainless tubes (1mm gap between tubes) with sharp-edged apertures, carved by CNC in a spiral way all over the height. Spiral positioning of the apertures allows to open them one by one when rotating the inner tube, which ensures that the product is filled into the sampler evenly over the entire height.
For the different diameters of the tubes, used different aperture sizes (see chart).
The sharp tip made of stainless steel allows easy insertion of the sampler into any product: granular, pellets, powders etc. As well a sharp tip easily tingles and does not tear the fabric bag, big bag, or polymer sleeve for grain storage.
At the other end of the device, is located a hole for pouring out the product after sampling.
See also: Multilevel Aluminum samplers, Bag samplers (bag triers), and Soil Samplers produced by TECHNOTEST in Ukraine.
Download brochure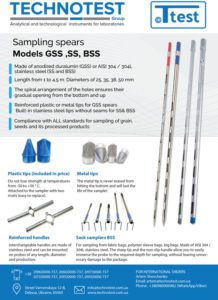 GSS-SS-BSS – 2021 – Brochure EN
Product models, specifications
Example: SS2510 mean SS = Stainless Steel, 25 = diameter 25mm, 10 = length 1.0m
| | | | | | | |
| --- | --- | --- | --- | --- | --- | --- |
| Model | SS2510 | SS2515 | SS2520 | SS3810 | SS3815 | SS3820 |
| The diameter of the outer tube, mm | 25 | 25 | 25 | 38 | 38 | 38 |
| Total length, m | 1.0 | 1.5 | 2.0 | 1.0 | 1.5 | 2.0 |
| Number of holes | 4 | 6 | 8 | 4 | 6 | 8 |
| Size of the holes, mm |  100×18 | 100х18 | 100х18 | 100х20 | 100х20 | 100х20 |
| Weight Netto, kg | 1.1 |  1.7 |  2.25 | 2.2 |  3.25 |  4.35 |
The gap between the outer and inner tubes is 1mm.
NOTE: Please select the length, and the diameter accordingly to the product to be sampled and the required height (depth) of sampling.
Partition type
As an option, any sampling spear can be made in "Partition Type" (PT). In this case, between sampling holes is fixed a plastic plug. Every sampling aperture becomes an individual compartment. This allows the user to analyze the product from different levels (layers).  The possibility to pour out the product from the handle side is cancelled. Pouring out the product should be processed through the sampling holes.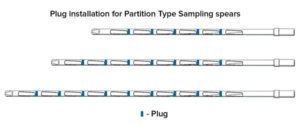 Product pictures
SS 25XX
SS 38XX
Sharp tip, sharp-edged apertures
Additional Hand Grips (HG-25/38)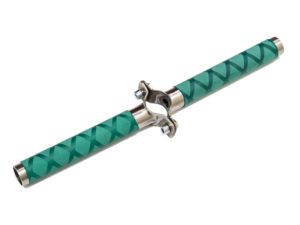 For easier and safe device insertion, an additional Hand grip (T-handle) may be installed on the outer tube (available only for the 38mm diameter model).
The colour of the antislip tape can be chosen: Green/Red/Blue
Individual Packing
The individual packing for every spear is available. A carton tube Diameter of 50mm, closed with 2 plastic caps.
Custom stickers on a package with your company logo and info
We can attach a sticker (size ~140x50mm), with your company Information, printed on oracle paper with lamination.
It's free of charge for orders >40 samplers.