Stainless steel bag samplers (BSS)
Bag stainless steel sampler, nobbe trier (BSS)
The Stainless steel one-slot sampler (code BSS) is a high-quality device, designed for sampling seeds, grains, nuts, or any other bulk or granular product from fabric bags, polymer sleeve bags, and big bags.
BSS is made of AISI 304 / 304L stainless steel.
The sharp tip and the non-slip handle allow you to easily immerse the probe in the required depth for sampling, without leaving unnecessary damage to the package.
PRODUCT MODELS, SPECIFICATIONS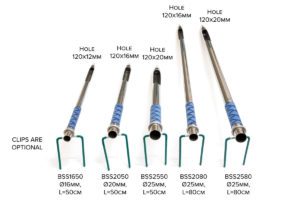 Model

BSS1650
BSS2050
BSS2550
BSS2080
BSS2580

Material

Stainless Steel AISI 304/304L

Tube diameter, mm

16

20

25

20

25

Total length, mm

500
500
500
800

800

Number of holes (apertures)

1

Hole (aperture) size, mm

115×10
115х14
115х19
115х14

115х19

Weight netto, kg

0.15

0.2
0.3
0.35

0.5

Packaging

Cloth fabric cover with zipper, +0.05 kg
How to use a sack sampler BSS
The device is inserted into the bag with the sampling hole down. Upon reaching the required depth, the probe is rotated 180 degrees and removed from the bag. The unloading of the selected sample is poured out through the hole in the backside.
To simplify sample unloading, you can use a clamp to attach the zip bag to the back, which greatly simplifies multiple sampling and obtaining a mixed sample.
Clipper for zip-lock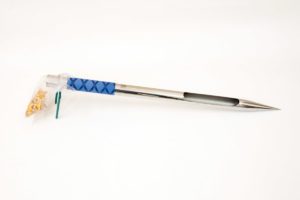 We offer an additional clipper for zip-lock fixation. It's not included in the default price.
Individual Packaging
Every BSS sampler is supplied in an individual package – a dense fabric case with a zipper.