Aluminum sampling spear (GSS)
Aluminium probe sampling spears (GSS)
Aluminium multilevel probe samplers (code GSS) are used for taking a representative sample of grain, seeds, granular products and bulk materials from the entire depth of the mass.
Commonly used for sampling at ground storage warehouses, grain trucks, and railway cargo.
Our GSS probe samplers are made of high-quality aluminium alloy. An anode cover not only makes aluminium look nice and clean but also protects it from rusting.
In comparison with Stainless Steel samplers, or Brass samplers, aluminium alloy is a much more lightweight material. And if you ask a person who takes samples from 100 cars/trucks per day, they will say that weight of the device means a lot.
The device itself consists of 2 empty aluminium tubes (1mm gap between tubes) with sharp-edged apertures, carved by CNC in a spiral way all over the height. Spiral positioning of the apertures allows to open them one by one when rotating the inner tube, which ensures that the product is filled into the sampler evenly over the entire height.
For the different diameters of the tubes, used different aperture sizes and different numbers of apertures (see chart).
On one end of the device is installed an improved tip, and at the other end of the device, is located a locker for 2 tubes, and a hole for pouring out the product after sampling.
Download brochure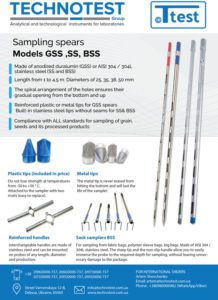 GSS-SS-BSS – 2021 – Brochure EN
GSS Product pictures
Real-life pictures of sampling sunflower with GSS3520-PT
Product models, specifications

Scheme GSS multilevel probe sampler. For more info see table.
Example: GSS3520-PT mean GSS = Grain Sampling Spear, 35 = diameter of the outer tube is 35mm, 20 = length 2.0m, -PT = Plastic tip is attached.

Material

Anodized aluminium alloy
Model

2510

2515

2520

3510
3515
3520
3525
3530
5010
5015
5020
5025

5030

Outer tube diameter, mm

25

35

50

Length total, m

1.0
1.5
2.0
1.0
1.5
2.0
2.5
3.0
1.0
1.5
2.0
2.5
3.0
Number of apertures

4

6
8
4
6
8
10
12
4
6
8
10

12

Apertures sizes, mm
120х18
120х20

120х28

Sampling volume, ml ≈
–
–
–
–
850
1100
1300
1700
1000
1300
1700
2200
2700
Weight, kg
0.8
1
2.05
1
1.4
1.8
2.2
2.4
1.4
2
2.8
3.4
4.2
Weight brutto (in carton tube packing), kg
1.2
1.6
2.85
1.4
2
2.6
3.2
3.6
2
2.8
3.8
4.8
5.8
NOTE: Please select the length, and the diameter accordingly to the product to be sampled and the required height (depth) of sampling.
For the sampling guide of the product, check the local standards.
Partition type
As an option, any sampling spear can be made in "Partition Type" (PT). In this case, between sampling holes is fixed a plastic plug. Every sampling aperture becomes an individual compartment. This allows the user to analyze the product from different levels (layers).  The possibility to pour out the product from the handle side is cancelled. Pouring out the product should be processed through the sampling holes.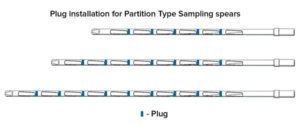 Plastic tip (PT) or Metal tip (MT) attachment
By default, we offer the installation of a plastic tip, which has additional stiffeners for easier insertion. Made of low-pressure polypropylene, they do not lose their physical properties at temperatures from -50 to +50 °C.  Within long-term use, the plastic tip wears out (erases) because of hitting the bottom of the car, or the tips are destroyed by users, who throw the sampler as a gladiator throws his spear.
The solution may be to purchase metal tips, which are made of cast aluminium alloy, and also have additional stiffeners for easier insertion, but metal tips will last the entire life of the sampler.
The plastic tip is attached to a sampler with two rivets and can be easily replaced by a customer or by a service centre. The metal tip is attached with glue for aluminium.
Additional Hand grips (HG-35, HG-50)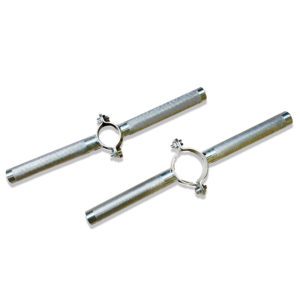 Take in mind that with the growth of the depth of insertion (as well as product specificity like high moisture content), the density of the grain mass increases significantly and in order to penetrate the probe sampler deeper, you will have to apply a considerable effort.
Due to a lack of experience of the user, he may want to tilt the sampler, which can lead to bending and irreversible breaking of the device.
The use of replaceable T-handles on the sampler of bulk materials significantly facilitates its immersion in the mass of the product. Already when penetrating to a depth of more than 1.5 meters, the user will feel resistance and it is necessary to make rotation movements (rotate the grain probe) for its complete penetration using the handles. 80% of the Samplers length 2.0m + are sold with additional handles.
IMPORTANT: UNDER NO CIRCUMSTANCES SHAKE THE SAMPLER FROM SIDE TO SIDE! THIS WILL LEAD TO A BREAKDOWN!
Replaceable handles for sampling probes with a diameter of 35, 38 and 50mm are made of stainless steel or galvanized metal and can be installed on probes of any length.
Structurally, they consist of two halves, which are fastened together with bolts near the dipstick handle.
The kit for each handle includes a hex key for clamping bolts.
Individual packing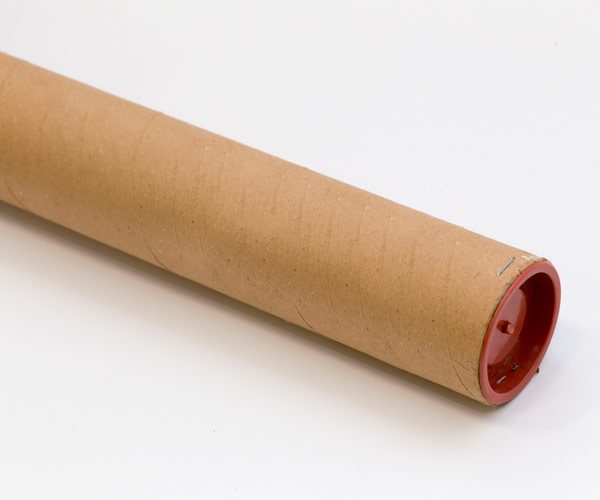 The individual packing for every item is included in the price. A carton tube Diameter of 50mm for 35mm samplers, Diameter of 70mm for 50mm samplers. The tube is closed with 2 plastic caps from both sides.
Custom user instructions sticker on every spear and package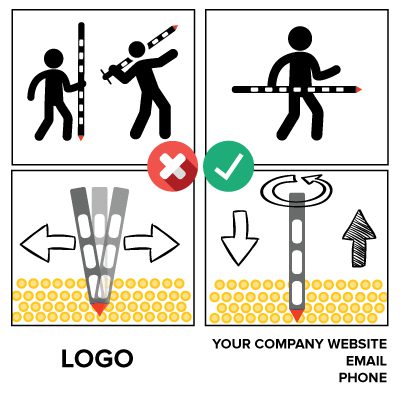 We can attach 2 stickers with your company information.
On the sampler, near the handle (size ~100x100mm), with user instructions and your company Information
On the package tube (size ~140x50mm)
Stickers are printed in full colour on oracle paper with a lamination cover. It's free of charge for orders of 40+ pcs. For orders <40 pcs total price is 1EUR for 2 stickers.
Export packaging pictures, delivery
For export delivery, samplers are packed in a wooden pallet.
For delivery options/prices, please contact us to get a quote.